BBB is the only company in Japan capable of delivering entertainment content in all locations and service formats.
We provide a wide variety of content, focused on movies (foreign and Japanese), and also including TV dramas, animation, variety shows, documentaries, background videos, etc. tailored to clients' target audience and budget. In addition to video distribution platforms, we deliver the optimal content in the optimal format to every possible location, including hotels, schools, libraries, restaurants, hospitals, beauty salons, kids' spaces in commercial facilities, ships, buses, drive-in theaters, and every type of screening event.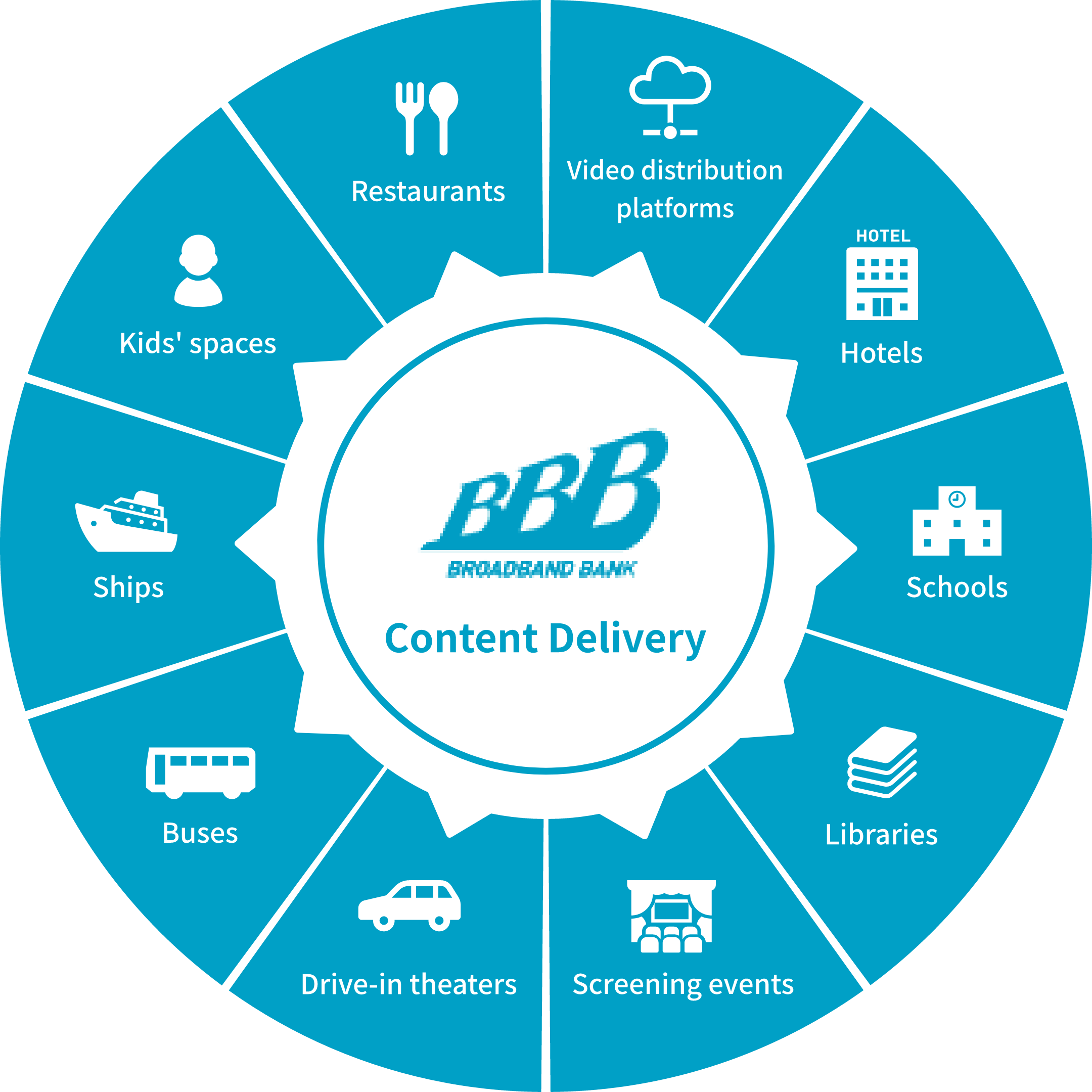 To Content Owners
We do business with a wide range of content providers and consumers, including PC sites, smartphone-focused sites, business services (hotels, hospitals, etc.), schools, libraries, and various facilities and events. For this reason, we strictly manage the scope and duration of copyright permissions for all of the content that we receive.
We also work hard to understand what kind of copyright protection policies are used by distributors so that our partners can be confident in entrusting their content to us. We help our clients maximize the profit of their content with thorough copyright management and an extensive network of business partners.

To Distribution Companies
We handle not only movie content (foreign and Japanese), but also animation, TV dramas, Korean and Chinese dramas, comedy, pachinko, sports, how-to, healing, background videos, and content in a wide range of other genres. Using the know-how and marketing data we have cultivated since our founding, we analyze viewership trends and demand for different types of services, and then arrange and propose content tailored to the target audience and budget.

To customers who need business use DVDs for screenings, library use, kids' rooms, etc.
To customers who need business use DVDs for screenings, library use, kids' rooms, etc.
We offer many types of content suitable for various situations, such as screenings at events, use in public libraries and school libraries, kids' rooms, tourism buses, and more. For additional details, please refer to the dedicated website:http://www.business-dvd.jp.